Shipping container castors with twist-lock
We supply shipping container wheels with twist lock for fitting and locking in an ISO 1161 corner of the freight container. These tow castors are the best solution to mobilise intermodal containers in harbours or on your plant site.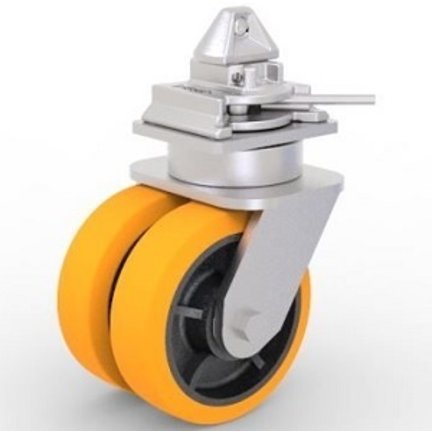 We supply shipping container wheels with twist lock for fitting and locking in an ISO 1161 corner of the freight container. These tow castors are the best solution to mobilise intermodal containers in harbours or on your plant site.
A Comprehensive Guide on Shipping Container Wheels
Moving shipping containers without help from a crane is challenging! But fortunately, the NEVA shipping container wheels come into the picture. That makes it easy for you to move the large-sized and heavyweight containers flawlessly from place to place. Also, ISO shipping container wheels allow for manoeuvring in narrow spaces. 
What are Shipping Container Wheels?
Shipping or ISO container tow castor is a Heavy-duty wheel system specially designed to mobilize shipping containers, tanks, equipment or structures with ISO 1161 castings on the corners. The wheels are normally equipped with polyurethane treads to carry the heavy loads, also cast nylon or Pneumatic tyres are used depending on the surface.
What is unique about shipping container wheels?
To connect a shipping container wheel to the ISO 1161 corner casting of an intermodal shipping container, the top plate of the castor wheel is equipped with a twist-lock mechanism. This allows the clamping and unclamping of the castor to the container. As shipping containers are used for shipping goods all around the world, the castor wheel systems need to be robust and heavy-duty.
On what type of shipping container can wheels be attached?
On every container, we can fit wheels; our standard off the shelf container castors all fit the corner castings of standard 20 and 40 feet containers. If you have an irregular container, please contact s, and we will find a custom solution for you.
For what application are shipping container wheels used?
The invention of the intermodal shipping container is the biggest revolution in logistics. The standardization of the containers optimized the handling and storage of cargo on ships and on the shore. Most businesses use nowadays shipping containers for the logistic of bulk goods over long distances.
Our customers of container wheels mainly use the containers not for long-distance shipping but for in multiple ranges of applications like storage or as a short term mobile unit for equipment.
Harbour and Maritime transport
Workplace storage
Tiny container homes
Storage applications on the factory sites
Mobile hospitals
Mobile telecommunications installations
Military use
With high-quality wheels being offered at affordable prices, IndustrialWheels.com is a great choice when it comes to buying shipping container wheels without breaking your bank.
What is the "tow bar" in the container mobilization kit?
Apart from wheels, there are situations when the remote areas might not be able to accommodate a semi-truck delivery of shipping containers. In that case, you might want to use a TOW BAR. With this addition, you can connect the shipping container on wheels to a tug, a tractor of a forklift truck which offers you the ability to pull the shipping container into motion immediately. The tow bars are foldable and provide you with an efficient way to pull or push the container into the right location.
How to Put a Shipping Container on Wheels?
Putting shipping containers on wheels might sound like a troublesome process, but it is not that tough as it sounds.
Make sure the surface and planned path is flat and free of obstacles
Lift the container by means of container jacks, a forklift truck or a crane
Our shipping container wheels fit in every ISO 1161 corner casting.
Place them from underneath in the corner casting of the container. And secure them with the twist-lock system.
Please note that a load of a container might not be equally distributed over all 4 wheels in case if

The container is loaded unequally
The surface is not flat but skewed
There are obstacles or thresholds on the surface

As a safety factor, we urge you to double-check the loading of the container and contact a qualified engineer if you have any doubts about the needed load capacity. During the transport of the container, stay at least 2 meters away when the container is moving.
In any case, never go under the container.
The entire installation process of heavy-duty shipping container wheels takes only about a couple of minutes per castor to get completed. And once you're done with the entire installation process, you can flawlessly move the container.
Are There Wheels for Shipping Container Tiny Houses?
With all the industrial applications of shipping containers, there's one more creative way to utilize them! Yes, shipping containers can also be used to make tiny houses. Most people who love to build tiny houses use two to three shipping containers to build one. Thanks to the sturdiness, availability, and modern look of shipping containers, they are easy to customize.
Now, if we talk about "whether there are wheels for shipping container tiny houses?" then the answer is YES! Most of the tiny shipping container houses are viewed as a more permanent construction, but they can also be moved intact to a new foundation and can be converted into moveable ones by adding wheels onto the. So, whether you are finding out wheels for normal shipping containers or shipping container tiny houses, you can easily find them all out there!
Here, you have got to know the creative use of shipping containers. Now let's move ahead and learn about a special feature of shipping container transport wheels, i.e., Directional Lock!
How to Use the Directional Lock on Shipping Containers Wheels? 
The shipping container towing wheels comes with a special Directional Lock that can prove to be ideal in many applications. One vital thing to be noted here is that, by locking the direction of one of the rear wheels, the shipping container gets a more steady drive. The directional lock offers you the ability to swivel any of your casters and then lock them back into a fixed position. These locks allow you to lock your casters on the wheel, and thus the caster raceway makes your container completely stationary. 
The directional lock ensures that the casters are lock into position to guide the shipping container in a straight line. But in order to make this happen, the alignment of the caster must be matched up with the direction of the fixed casters. So, by using a directional lock, you can effortlessly stop the wheel's horizontal swivel rotation from converting it into a fixed, rigid wheel.
How many loads can ISO container castors bear?
Please note that irregular surfaces and rough terrain increase the peak load on a single wheel. For the calculation of the required load capacity, we advise dividing the total load of the cargo+the container weight by a factor of 2.5.
Calculation example:
Shipping container weight 800KG + cargo load in the shipping container 9000KG = total weight 9800KG

9800 / 2.5 = 3920KG required load capacity per container castors.
Container castors are a good option for an easy way of transporting shipping containers. The offered shipping container wheels we keep in stock, and we can deliver them of the shelf. If you need a specific solution, consultation or advice, please contact us. These tow castor wheels can be supplied with cast nylon wheels, pneumatic tyres, or solid industrial rubber wheels on your request.
Read more
Close