4 wheel garbage container castors PAH and REACH conform (EN840-5 and RAL 951/1-2) for the highest manoeuvrability
At IndustrialWheels.com you can find a complete range of castor wheels with rubber tyres for use under 4 wheel waste containers. Made out of high-quality PAH-free and REACH conform materials according to EN840-5 and RAL 951/1-2.
Our wheels offer the high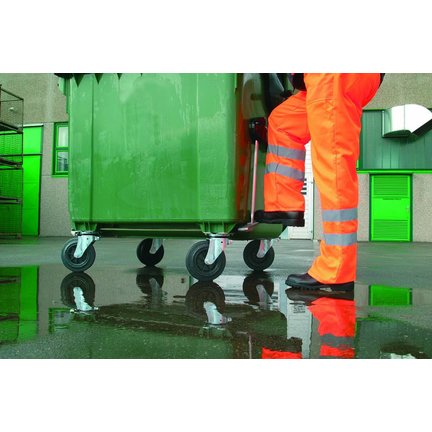 At IndustrialWheels.com you can find a complete range of castor wheels with rubber tyres for use under 4 wheel waste containers. Made out of high-quality PAH-free and REACH conform materials according to EN840-5 and RAL 951/1-2.
Our wheels offer the high
Waste Container Wheels and Castors
Waste container wheels is an industry in itself and different from transport Wheels & Castors. Below a summary of some terms related to the garbage container.
Ous waste container specialist can dream and explain these terms any time of the day.
Different load capacities due to different types of tests.
Waste containers have norm DIN840, the test that goes with it is much more descriptive than the standard industrial wheels norm NEN 12532. This results in lower load capacities for waste container wheels under NEN 840. Examples:
Our heavy-duty waste container castor forks have a load capacity of 650kg in accordance with DIN 840 and 950kg load capacity when tested in accordance with DIN 12532.
Our standard waste container wheels have a load capacity of 210kg in accordance with DIN 840 and 350kg load capacity in accordance with DIN 12532.
PAH free wheels / REACH approved wheels
Polycyclic aromatic hydrocarbons (PAHs) are known to be carcinogenic to humans and easily absorbed by the skin. PAH substances are common in recycled rubber from China due to the plasticisers and binders they use in China. European legislation has been in place since 2013, but as control is still difficult, little is enforced. However, this will change in the coming years because cheaper and faster tests for PAH have been developed.
PAH Regulation (EU) No 1272/2013, Annex XVII, REACH, using the method ZEK-01.4-08.
Depending on the application and the duration of contact with the skin, a different PAH standard applies. Waste container wheels are in the least strict category, the most strict category is children's toys
Our rubber wheels are made in EUROPA and are made from high quality recycled industrial tyres, our rubber meets all PAH and REACH standards for waste container wheels.
Destination Germany?
For the delivery of waste containers in Germany, a SKZ certificate is required, this is an even stricter PAH standard. Only LIV SYSTEMS is among the rare companies who have this certificate.
All LIV SYSTEMS swivel castors for waste containers have successfully obtained the SKZ certificates according to EN840-5 and also RAL 971/1.
Our reference:
LIV products have passed all internal tests by the TOP of the European manufacturers of waste containers such as SULO, ESE, WEBER, Europlast and Plasticomniun.
Lowest rolling resistance for container trains up to 12 km/h
The heavy LIV SYSTEMS forks combined with the superelastic LIV aluminium rubber wheels 200mm can carry up to 12 km/h. Load capacity at 12 km/h is 375KG per wheel.
The unique metal swivel castors are equipped with specially hardened steel rings to support super-rotation under heavy loads.
Galvanising
LIV is the only castor manufacturer in Europe to have its own galvanising plant, in an independent test it is the only manufacturer whose passivation has passed the salt spray chamber test for 192 hours.
Read more
Close