Floor Truck Locks - Prevent Equipment From Rolling Away
Floor truck locks - prevent rolling.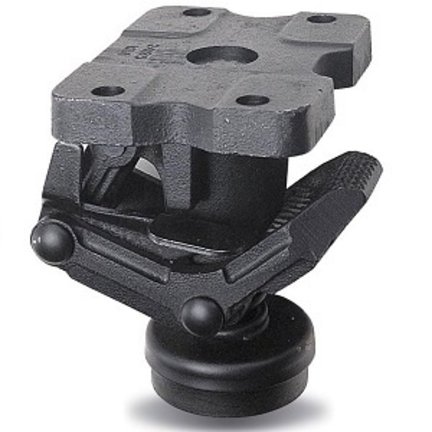 Floor truck locks - prevent rolling.
Floor Truck Locks
Our truck locks are available in two types.
The TLCM truck lock series is designed to be bolted to the side or end of the truck. The customer can drill the holes on the side or end, depending on where they think they will fit best. Four 10 mm clearance holes are suggested, the top pair is up to 353 mm and the lower pair not less than 226 mm above the ground. The TLCM truck lock series is equipped with side plate fitting, made of sheet steel and available with the plate fitting on the right or on the left side.
The TLCH truck lock series is made from cast iron and has a top plate fitting. The lock provides a means of instantly securing a truck or other mobile equipment in a fixed position without raising it. The floor lock bolts to the underside of a truck with its top face exactly 200 mm above the ground to ensure optimum performance.
Application of Truck Locks
At IndustrialWheels.com you will find truck locks to suit every cart, truck, mobile platform and/or machine. Truck locks are an easy, effective and low-cost method for preventing castored equipment from accidentally rolling away. 
After placing the cart in the desired position, push the foot pedal. The brake pads locks the cart onto the floor under compression. Stepping on the other pedal pulls the truck lock mechanism into its free position.
Our truck lock is available in the two types. The TLCH series truck lock is made of cast iron and has a top plate attachment. The TLCM truck lock series are equipped with side-plate mounting and made of sheet steel and are available with the plate mounting on the right side and lift side.
We are sure you will find the truck lock with the best price-quality at Industrialwheels.com. The truck lock on our site are sourced from the top brand and have excellent quality. We offer our Truck locks at low prices at Industrialwheels.com.
If you are not able to get the truck lock you need, we can always find you a different type or a customized solution. If you are interested in serious quantities of truck locks please notify us and we will contact you a customized offer.
Do you need some extra help or do you need something custom made? Contact us!
Read more
Close
cart/container brake unit system by means of a floor lock 500050201
sprayed black matte f...

Truck lock / Floor lock Type TLCH - sprayed black matte finishOverall height free position...