Pneumatic castors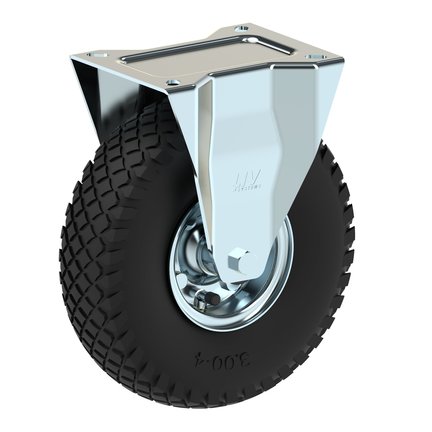 Pneumatic castors are a reliable option when you are looking for castor wheels that provide a smooth and silent ride. They consist of a rim with an air-filled tire mounted onto a castor base. These pneumatic castors are available in swivel castors as well as fixed ones. 
Application of pneumatic castors
Pneumatics castors are used in a wide variety of applications where you might want to ensure a smoother ride on uneven surfaces. The air-filled pneumatic wheels provide shock absorption, a cushioned ride and quiet operation. Pneumatic castors are ideal for moving fragile or delicate cargo where overall castor height is not critical. Castors with pneumatic wheels are usually the best choice for outdoor use over rough surfaces (i.e. gravel) or on grass.
Pneumatic wheels are used for various types of transportation equipment. At IndustrialWheels.com we focus on pneumatic wheels and rims that can be used for applications such as agriculture, industrial use, health care, flat-free and low speed (below 8 km/h) pneumatic wheels (e.g. beach wagons, trolleys, and carts for internal transport).
The tires of these pneumatic castor wheels are made out of a black rubber which works best in a dry, non-humid environment. The material of these wheels is only resistant to weak chemicals. These wheels can bear a load of 150kg per piece. 
Custom pneumatic castors from Industrial Wheels
At Industrial wheels, we can assist you in designing and manufacturing the perfect pneumatic castor for your situation thanks to our 75 years of experience with industrial wheels and castors. If you want more information on custom pneumatic castors you can always request a quote. If you already have an (OE) drawings of your product, you can upload these and we will produce your castors according to these specifications. 
Read more
Close