Leveling Castors
Leveling Castors are ideal for applications where precise positioning is required. These castors can handle up to 350 Kg each.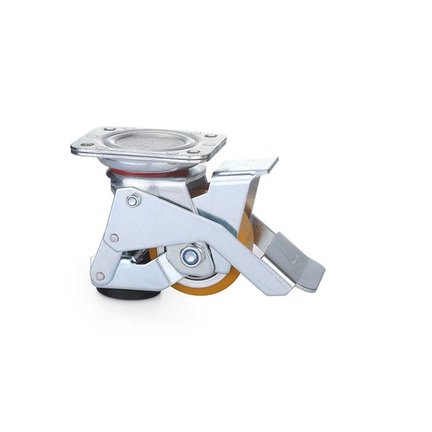 Leveling Castors are ideal for applications where precise positioning is required. These castors can handle up to 350 Kg each.
The foot pedal operated, leveling castor range is ideal for machines and equipment.

Good manoeuvrability thanks to the long distance between the wheels.

Wheel material: nylon, polyurethane on C45 steel core, or polyurethane on the aluminium core.

leveling foot with height-adjustable rubber pad.

Ground clearance of the mount: 5-7 mm.
Adjustable leveling castors are ideal for applications where precise positioning is required. These castors come with a height-adjustable rubber pad.
Note: there is a leveling castor that swivels with an integrated leveling machine foot. There is a sealed ball bearing in the swivel head. The wheel axle is threaded. The ergonomic form of the actuating lever, which does not swivel with the roller, allows for easy operation. The short actuation travel, along with simultaneous long plunger stroke and very high lifting force, allows heavyweights to be easily raised and safely fixed in place.
A Complete Guide to Swivel Castors with leveling Foot
Are you on a hunt to buy new castors for your furniture or heavy equipment? If so, then you might be confused regarding which casters are the best! With the availability of a wide variety of casters, you need to consider the functioning of each caster type and then select the best. 
When it comes to chairs, dressers, musical equipment, and many more things, adding casters makes a significant difference for moving equipment from one place to another. The most common castors will fall in one of two main categories: Rigid Castors and Swivel Castors. Swivel Casters are more commonly used for moving objects within the 360-degree rotation, and they often come with leveling feet that offer an advanced experience. 
What Are Leveling Casters?
leveling casters are the casters that are adjustable in height. Such a type of caster is the perfect choice for handling heavyweight loads. With such an excellent feature, leveling casters are ideal for musical equipment, mobile workspaces, workshop machinery, etc. In addition to this, the leveling casters are a solution for noise reduction because they prevent noise while moving heavy objects from place to place. 
The leveling casters involve anti-vibration pads to secure them to the floor. Once the pad is lowered down, the equipment will not move. These particular caster types have a thumbwheel adjustment feature that allows you to easily turn the wheel with your thumb to lower or raise the anti-vibration pad. 
This was all about what leveling casters are! Now, let's get an insight and overview of Swivel Castors with Lifting feet!
What Are Swivel Casters with Lifting Feet?
A caster is an assembly that involves a mount and a wheel. If we talk about a particular castor type, i.e. Swivel Castors, these castors have a raceway that allows the wheels to turn into a 360-degree rotation. In simple words, we can say that Swivel casters are capable of turning in all directions. The Swivel castors with lifting feet form an ingenious 2 in 1 component that allows safe positioning and easy movement of the application. With such types of castors, you will get movement and stability combined perfectly.
You can mount the Swivel casters by lifting foot on the object, and then you can easily move heavy equipment on the industrial floor at any time without even requiring an industrial tool or truck. Such a type of castor allows the movement of an object in multiple directions effortlessly and ergonomically. These casters can make moving heavy loads much more manageable and hassle-free than before. 
So, if you are looking for a castor that can make heavy equipment move easily and still stand securely, then a Swivel caster with a lifting foot is a perfect combination to satisfy all your caster needs. 
Why Use Swivel Casters With Lifting Foot?
Swivel casters with lifting feet are in trend these days because they offer you an opportunity to move heavy loads easily and quickly. Swivel caster and lifting foot together form a perfect combination when an application needs to be moved regularly but still stand rigidly. Using swivel casters with lifting feet, the time-consuming assembly and dismantling of machines, working platforms, measuring stations, etc., will no longer be required.
The perfect combination of swivel castors with lifting feet can also be used in situations where you need the stable position of equipment on leveling feet with one step. This means that once the caster is in the desired position, it can simply be lifted back again by using its practical lifting mechanism. Once it's done, the equipment will stand still therein securely, and the vibration is reduced on the lifting foot and not on a roller that is blocked by a brake. With the excellent quality of swivel casters with lifting feet, you can always expect a stable stand of application even under heavy weight loads.
So, suppose the items need to be moved around to multiple work points within a workspace. In that case, Swivel casters with lifting feet will indeed be necessary because they offer the advantage of maneuverability. 
How to Install Swivel Caster Wheels With Leveling Feet?
Have you made up your mind to buy Swivel casters with leveling feet, but do you still have some questions regarding the installation of leveling castors? If this is the case, then we are here to help you out with a simple guide on: "How to install Swivel Caster wheels with leveling feet?"
Luckily, learning to install Swivel casters on any equipment you want is pretty easy, and it takes but a few tools that you probably already have laying around. When you buy Swivel casters with leveling feet, they can come with a pre-drilled hole or may require a hole to be drilled. The former features a plate attached to the caster mechanism, and this plate is screwed up to the bottom of the equipment.
So, whichever Swivel castor type you purchase, let's understand how to install it on equipment.
Step 1: Make sure the corners are ready.
Step 2: Flip the equipment over so that the bottom is facing up.
Step 3: If you are installing screw-on casters, then position the plate in place, square the edges flush to the edges of the word, and install the screws. 
Alternatively, if you are using post castor types, you will need to tip the piece onto its side, drill the holes in each corner and install the caster assembly.
Step 4: Repeat the same process for all the four casters, and you can then flip it back over. 
In just four steps, you are ready to make your equipment mobile. You can now set the pedal to the mobility mode by raising the leveling foot and getting ready to roll your equipment to the new position. You can later set the pedal of leveling foot to the fixed mode by pressing down the foot pedal, and your equipment will then be secured in a fixed position.
Read more
Close
Foot operated Leveling fixed caster with 80x40mm nylon wheel, load capacity 350KG - Easy H...

Foot operated Leveling fixed Caster with 75x40mm polyurethane wheel tread, load capacity 3...

Stainless steel Foot operated Leveling fixed caster with 80x40mm nylon wheel, load capaci...