Steel milled corner casting fittings. These certified container corner blocks have the standard dimensions
Steel milled corner casting fittings. These certified container corner blocks have the standard dimensions accoudring ISO 1161 for shipping containers.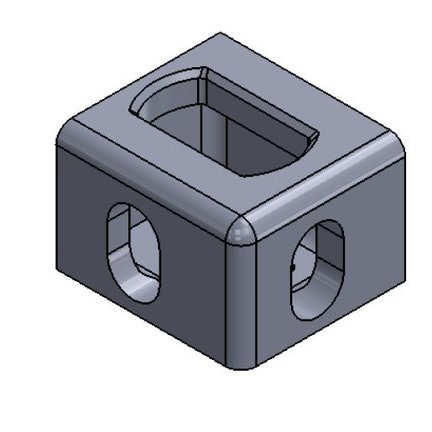 Steel milled corner casting fittings. These certified container corner blocks have the standard dimensions accoudring ISO 1161 for shipping containers.
A Buying Guide To Corner Casting
If you are looking to buy corner casting and are not sure what to consider, then you have stumbled to the right place. Corner castings are the corners of ISO containers. They are the structural element that allows a container to be attached to a chassis for transportation. Moreover, corner castings allow shipping containers to be lifted up and moved as needed. Here you will get to know about corner casting, which is the best material to look for, certification required, and so on.
Let's dive right in to know everything about ISO 1161 corners and the things to keep in mind!
What is Corner Castings?
ISO1161 Corner castings are the large three-holed blocks of steel that shape the corners of all globally standardized ISO shipping containers. They are the structural elements used to lift shipping containers and link them to the mode of transportation used to move the container, such as ships, trains, or road vehicles. They are also the point at which shipping containers can be connected to one another, as in the case of stacks of containers on a container ship.
These corner castings have holes in them that have been standardized to a tolerance of mere millimeters to ensure that all lifting and container transportation equipment works properly around the world.  IndustrialWheels.com guarantee that their corner casting will fit every ISO certified shipping container, anywhere in the world.
Why are corner castings made out of cast steel?
Good question! Even if you don't know anything about chemistry, the solution is relatively straightforward. Before jumping to know why corner castings are made out of cast steel, let's understand a few metal properties.
Metal are strong, hard, and durable.
Metals conduct electricity and heat.
Metals are malleable, which means they can bend without splitting.
Metals can be welded with other metals.
Now you know the properties of metals, let's see why corner castings are made out of cast steel! Corner castings are made of cast steel as it contains no alloying elements. As a result, cast steel has excellent machinability and weldability while retaining a high degree of durability.
How to choose between cast steel and aluminium corner castings fittings?
Cast steel and aluminium are two for the top materials of choice for modern metal casting. Thousands of manufacturers worldwide rely on both metals for heavy metals and goods that are lightweight and resistant to corrosion.
There are lots of factors to decide which is best when it comes to cast steel and aluminium corner casting fittings. Let's have a comparison and figure out which one is the best!
Aluminium Vs. Cast Steel: Strength
Steel is usually stronger than aluminium, but certain aluminium alloys are stronger than some forms of steel. Steel is also the first option for weight-bearing structural elements or applications that need significant strength to operate. aluminium has weight advantages, but it must be carefully designed to meet strength specifications.
Aluminium Vs. Cast Steel: Corrosion Resistance
This could go either side, depending on the alloys involved. aluminium is inherently corrosion resistant and can endure long periods of time outdoors and in wet conditions. Cast steel is easily corroded and often needs to be painted or sealed to work properly.
In reality, it is a common misconception that aluminium does not corrode. While aluminium does not rust (the red color of rust is caused by iron in the alloy), it will corrode faster than other alloys when exposed to acidic or basic environments.
Aluminium Vs. Cast Steel: Cost
The cost of different alloys varies greatly, and the global market is constantly changing. Cast Steel is made from iron ore and carbon, while aluminium is made from bauxite ore. Both are relatively similar, but iron is usually less costly to obtain. Both metals can also be recycled, which is also less expensive than producing new raw materials. aluminium is generally more expensive than cast steel.
Aluminium Vs. Cast Steel: Heat Resistance
Since aluminium has a much lower melting temperature than cast steel, aluminium products are not as heat resistant. Although cast steel does not melt until temperatures reach about 2500 degrees F, aluminium starts to soften significantly at 900 degrees F. As a consequence; cast steel can be used in high-heat applications that aluminium cannot.
As we have looked into different factors, it is clearly justified that cast steel is the best material type that one should look for when buying corner castings for iso shipping container corners.
What is iso 1161 for shipping containers?
ISO 1161:2016 specifies the basic dimensions as well as the functional and strength specifications for corner and intermediate fittings for series one freight containers, i.e., containers that meet ISO 668, ISO 1496 with the exclusion of air mode containers (see ISO 8323).
ISO 1161 norm is also essential since all of the efforts sponsored by a container pass through the corner fittings. This standard includes all details about the dimensions of these components and their resistance and mechanical resistance.
What certification for container corner blocks is needed?
The convention always looks for ISO 1161 certification for a container corner block, as this norm includes all details that are a must for a corner casting.
What are the standard dimensions of Corner Castings?
Corner fittings are usually made of cast steel and have holes on three sides that do not face back towards the container. The holes are generally 2-3 inches in diameter (though oblong), but they are not all the same shape. Some of the holes often vary depending on whether the corner is at the top or bottom of the container. The standard dimension of corner casting is 178mm x 162mm x 118mm.
Where to buy corner castings for shipping containers?
Are you hunting for the best Corner Casting for shipping containers and not sure where to shop? Look no further than Industrial Wheels, as they strive to work for all your needs.  As a leading international product catalog of the Dutch Konijnenburg BV, they always make sure that their products are made of high quality and meet ISO 1161 standards.
Their corner castings are the most effective way to mobilize intermodal containers in ports or on your plant site. If you need economical and best quality corner block containers, then Industrial Wheels is a one-stop solution for all your needs!
How to mount corner castings?
The most apparent way of mounting the corner casting is Welding.  Why should you go with this method because of Its efficiency and securely mounting the corner casting to the ISO shipping container? Although Welding is strong and long-lasting, it necessitates using a welder and can be useless if the casting is not made of cast steel.
If you still have any questions related to corner casting, you can get in contact with Industrial Wheels, and they will be happy to serve you at their best!
Read more
Close