Heavy Duty Polyurethane Tread Rollers - Low Height Castors
High quality polyurethane rollers. These rollers are available in a range of diameters from 40x30 mm to 93x25 mm and allow load capacities of up to 1,000 kg. Buy them at IndustrialWheels.com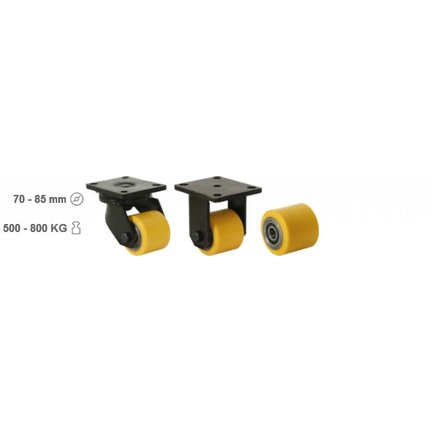 High quality polyurethane rollers. These rollers are available in a range of diameters from 40x30 mm to 93x25 mm and allow load capacities of up to 1,000 kg. Buy them at IndustrialWheels.com
Heavy Duty Polyurethane Tread Rollers
Our polyurethane rollers are perfect for the transportation of medium loads on smooth, dry floors (tiles, cement or coatings) thanks to their low rolling resistance. The high cut, tear propagation resistance and durability ensure a long life in an industrial environment.
Application of Polyurethane Tread Rollers
Because of their high durability and strength, these rollers are mostly used for trailers, conveyor- and transport systems, crane-operated machines, lift (elevator) systems, sorting systems and material handling trolleys.
Do you need some extra help or do you need something custom made? Contact us!
Read more
Close