ISO mobile shipping container castor wheels with twist lock
We supply shipping container wheels with twist lock for fitting and locking in an ISO 1161 corner of the freight container. These tow castors are the best solution to mobilise intermodal containers in harbours or on your plant site.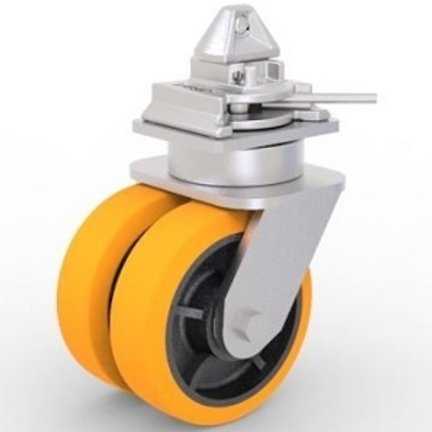 Heavy-duty wheels systems for shipping containers. Manoeuvre mobile sea freight containers by attaching these wheel systems to the ISO corners of your container.
Our Iso caster wheels for shipping containers fit ISO 1161 fittings of all intermodal freight containers.
Your specific situation
Our wheels and tow castors are designed for universal use on a wide range of applications. They have proven themself as a superior solution to any system available on the market. We are happy to advise you on the application of these shipping container wheels to the following applications:
Maritime and harbour transport
Mobile hospitals
Mobile telecommunications installations
Military communication commando posts
Storage applications on the factory sites
Container homes
Please note that irregular surfaces and rough terrain increase the peak-load on a single wheel. For the calculation of the required load capacity, we advise dividing the total load of the cargo+the container weight by a factor 2.5.
Calculation example:
Shipping container weight 800KG + cargo load in the shipping container 9000KG = total weight 9800KG

9800 / 2.5 = 3920KG required load capacity per wheel.
Contact us
On your request, these tow castor wheels can be supplied with cast nylon wheels, pneumatic tyres or solid industrial rubber wheels.
Read more
Close